Who We Are
The Tavistock Dementia Alliance was initially formed by members of Tavistock Rotary Club and launched officially
in December 2012.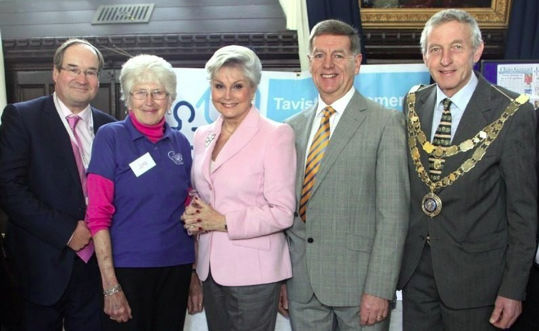 Pictured at launch are:Dr. Stephen Pearson (Consultant Psychiatrist), June Wildman (Chair of Tavistock Memory Cafe),
Angela Rippon (Patron of Alliance), Tony Parker (Chair of Alliance) and Councillor Robin Musgrave (Mayor , West Devon).
The Alliance remains an entirely voluntary organisation and has recruited a wide range of stakeholders, supporters and experts in the field of dementia. We are now a registered Charity and our aim is to relieve the needs of people with dementia and their carers in Tavistock and surrounding area for the public benefit by:
The provision of social activities to meet their needs and relieve isolation and loneliness
Raising awareness and understanding of dementia in Tavistock and the surrounding area by the provision of free training to local businesses and social groups
Providing accessible information in guides and packages, social media and our website
Working in association and liaison with other charities and organisations in the Tavistock and the surrounding area.
Our current priorities and projects are contained in our annual Action Plan.
This includes the details of the actions, measures and timescales that contribute to evaluating the success of the Alliance is freely available and can be found at this link here.